Many organizations are assessing what kind of work model is best for their business. Should they bring employees back to the office full-time? Allow flexible work schedules? Or continuing with the work-from-home policy? Each model has its own advantages and disadvantages. Studies show that hybrid work benefits the organization and its employees the most in the long run.
What is hybrid work?
Hybrid work is a flexible work model that allows employees to work wherever and however they are most productive. A hybrid work environment supports a mix of in-office and remote work. Organizations need to consider which type of flexible work is best fit for their business and set up a hybrid work plan accordingly. If an organization can adopt the hybrid working model successfully, it will benefit the entire organization, including its leaders, managers, and employees.
Benefits of hybrid work for employees
Many organizations are getting ready for a return-to-office plan. Meanwhile, research has shown that most employees prefer the work-from-home or hybrid work policies over returning to the office, despite the end of the pandemic.
An Ergoton study of 1,000 full-time employees found that, with familiarity, , the hybrid workplace model has empowered employees to reclaim both their physical and mental health. Their findings include:
88% of employees agree that flexible work increases their job satisfaction.
75% of employees reported being more active physically and having a more active work style when working from home.
75% of employees say the hybrid work model has improved their work-life balance.
"Over the past two years, employees have adapted to the hybrid and remote work landscape—and they now prefer it. As employers look to attract and retain talent, focusing on practices that promote well-being and help employees thrive wherever they work will be critical." - CEO of Ergoton
Another study from Owllabs in 2022 found similar results:

71% of employees want hybrid or remote working policies to continue after the pandemic is over.
90% of employees reported being at the same productivity level or higher when working from home compared to working in the office.
84% of employees say that the ability to work from home after the pandemic will increase happiness, with some willing to take a pay cut.
Cisco's "Employees are ready for hybrid work, are you?" study shows:
82% of employees say the ability to work from anywhere can increase their happiness.
60% of employees feel that working from home enhances productivity.
76% of employees claimed to save up to $8,000 a year while working from home.
60% of employees say the productivity and quality of work have improved.
Even though data shows numerous benefits of hybrid and remote work, only 25% of employees feel that their organization is ready to go hybrid. There are  inconsistencies between employee needs and what their organizations can offer. According to Owllabs, 39% of employers want employees to return to the office full-time after the pandemic, but only 29% of employees feel the same way. A number of employees are willing to quit their jobs if they can no longer work remotely.
According to a study in 2023, 58% of people continue to work from home.
Benefits of hybrid work for organizations
The misalignment between employees' desire for remote work and the organization's plan to return to the office may stem from the debate on whether remote work is truly beneficial for organizations. Data from leading research institutions, including Gallup, Harvard University, Global Workplace Analytics, and Stanford University, prove that workplace flexibility can benefit organizations in these 5 categories: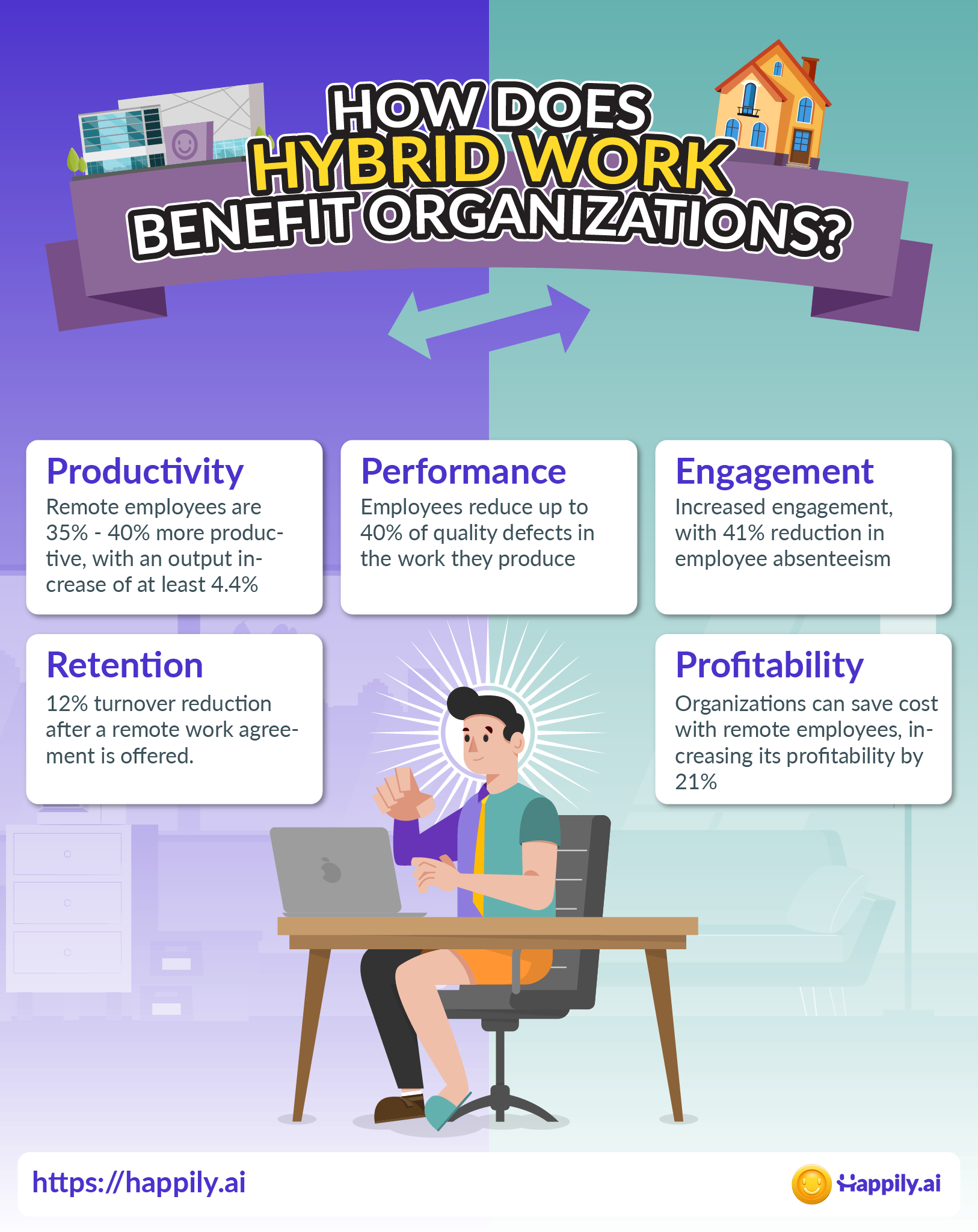 Productivity: Employees who work remotely are on average 35% - 40% more productive than those who work in the office, which results in an output increase of at least 4.4%.
Performance: Autonomy via location independence helps employees reduce up to 40% of quality defects in the work they produce.
Engagement: Higher productivity and performance creates engagement, which results in 41% reduction in absenteeism.
Retention: 54% of employees say they would change jobs if another job offered more flexibility, resulting in an average of 12% turnover reduction after a remote work agreement is offered.
Profitability: For an employee who works remotely 50 percent of the time, an organization can save an average of $11,000 per year, increasing its profitability by 21%.
The research consistently suggests that hybrid work meets the needs of employees and can help organizations increase performance, productivity, employee engagement, profitability, and retain talent. Leaders and managers who wish to recruit and retain talent need to rethink their workplace culture so that they are able to catch up with the demands for hybrid work because hybrid work is the future for most businesses.
Resources
[1] https://newsroom.cisco.com/c/r/newsroom/en/us/a/y2022/m04/cisco-study-employees-say-hybrid-work-makes-them-happier-and-more-productive-but-more-needs-to-be-done-to-make-it-more-inclusive.html
[2] https://www.forbes.com/sites/bryanrobinson/2022/02/04/3-new-studies-end-debate-over-effectiveness-of-hybrid-and-remote-work/?sh=6c3dfe0459b2
[3] https://www2.ergotron.com/EEWVWP2022?_ga=2.96405012.908027784.1655718268-1199762344.1655718268
[4] https://owllabs.com/state-of-remote-work/2021/
[5] https://www.forbes.com/sites/laurelfarrer/2020/02/12/top-5-benefits-of-remote-work-for-companies/?sh=691c3da516c8