A new year is a perfect time for organizations to rethink culture. In 2021, many organizations faced an imbalance between labor supply and demand. Hiring and retaining talent is difficult, and this challenge will persist. This is why company culture needs adaptation, a rethink. Culture adaptability is the ability of organizations to experiment, innovate, and adjust culture according to continuously changing conditions. A study done by Jennifer and colleagues in 2014 shows that organizations with adaptive cultures earn 15% more compared to those with inflexible cultures.
A strong and adaptive culture prepares an organization for the ongoing talent war. Research shows that over 70% of employees apply for a role only when their values align with the company's values. As more employees start prioritizing workplace culture when choosing where to work, leaders are responsible for constantly reviewing the culture, what's going well, and what needs to be improved—to ensure the culture serves its purpose of directing the company towards success. Here are the emerging culture trends of 2022.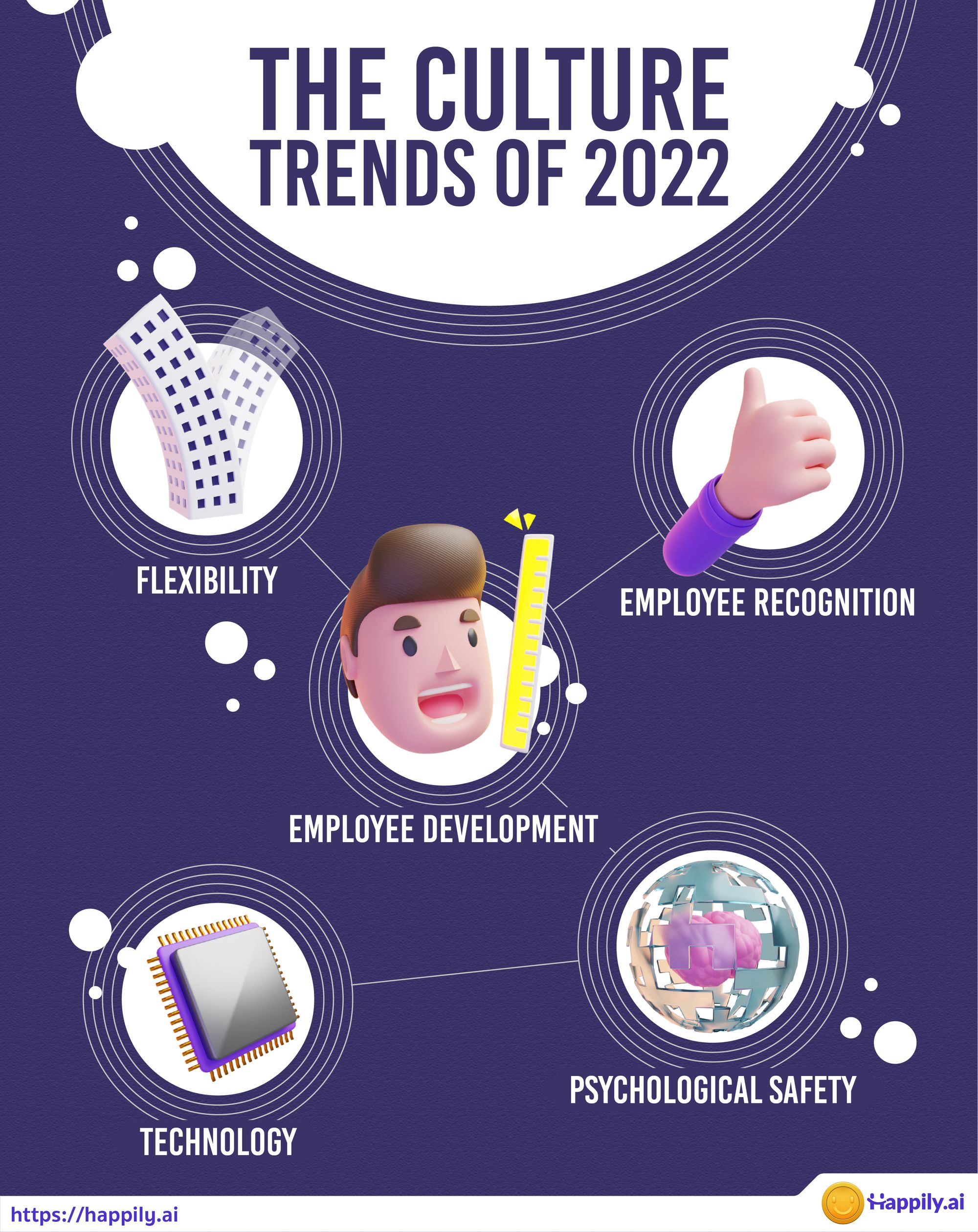 Flexibility
The pandemic brought flexibility to the forefront, and expectations have shifted. A survey by Harvard Business School shows that over 80% of employees do not want to go back to the office or prefer hybrid work schedules. By giving employees additional flexibility, they will be able to maintain their work-life balance and will have higher job satisfaction.
Employee Recognition
It is crucial for companies to create a culture that encourages recognition. When employees work remotely, managers have fewer insights into their teams' actions. A survey by Gartner shows that managers tend to believe that employees who work in-office are higher performers and have greater chances of being promoted, but this is not always true. Without appropriate recognition, employees feel less appreciated and motivated. This reduces engagement and productivity, leading to turnover.
Employee Development
Millennials will shape the world of work in the upcoming years. For them, providing benefits is just not enough. Millennials place a lot more emphasis on personal development. They are willing to stay with organizations that keep them moving upwards. At the same time, they are not hesitant to leave when they feel that they aren't growing or their expectations are not being met. Organizations should invest in their employees by providing them with development programs and opportunities for advancement.
Psychological Safety
Ensuring psychological safety is the first step to creating high-performing teams. With team members working in different places, a team becomes less like one. To keep your team members engaged, leaders have to create a safe space for them to communicate, interact, and experiment. Team members will become more open to ideas and have more constructive discussions when they feel comfortable and safe around each other.
Technology
With employees more dispersed than ever before, technology plays a central role in the workplace culture. Studies show that most employees believe technology improves their work experiences by helping them connect with the organization and their coworkers. Organizations will have to rely on technology as tools for virtual interaction and insights into employees' contribution, performance, and engagement.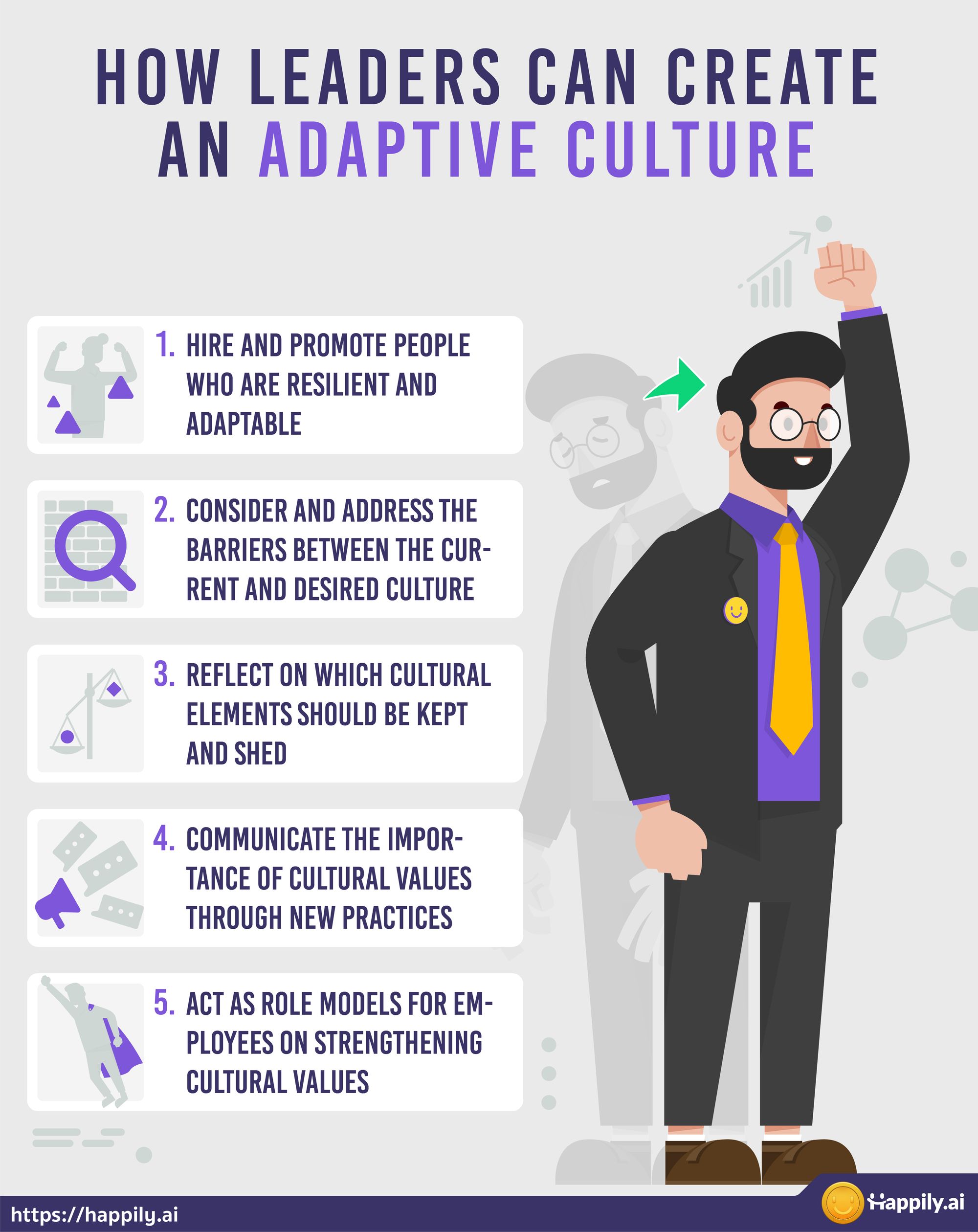 Creating an adaptive culture
2021 provided us with a glimpse into radical shifts in the workforce. In today's fast-paced environment, creating a strong culture is just the beginning. It is more important than ever to focus on creating a culture that is employee-first. To recruit and retain top talent, leaders must make sure their culture remains adaptable and purposeful.
Hire and promote people who are resilient and adaptable
Carefully consider and address the barriers between the current and desired culture
Reflect on which cultural elements should be kept and which should be shed
Communicate the importance of cultural values through new practices
Act as role models for employees on strengthening cultural values
A renewed focus on culture will give companies a competitive edge. Having the "right culture" that is adaptive in real-time helps companies attract and retain talent. If you wish to learn more about how you can create a culture that engages, collaborates, and inspires, we invite you to visit us at Happily.ai.
Happily.ai is an all-in-one employee experience platform that fosters a resilient workplace. Organizations use Happily to run daily check-ins, enable better conversations, develop people managers, and foster a more positive work culture. Real-time well-being and happiness insights are also available to help you better understand your teams and people. Visit us on our website or sign up for a demo to learn more about our features and benefits.

References
[1]http://faculty.haas.berkeley.edu/chatman/papers/Chatman-2014-JOB.pdf
[2]https://www.forbes.com/sites/carolinecastrillon/2021/12/29/why-2022-is-the-year-of-workplace-culture/?sh=745b88cb1bbb
[3]https://blog.vantagecircle.com/corporate-culture/
[4]https://builtin.com/company-culture/why-is-organizational-culture-important
[5]https://www.forbes.com/sites/forbeshumanresourcescouncil/2022/01/21/key-strategies-for-leading-culture-change-in-2022/?sh=7c5c369b3b74
[6]https://www.platypus.io/blog/how-to-transform-your-culture-in-2022
[7]https://hbr.org/2020/08/dont-let-the-pandemic-sink-your-company-culture
[8]http://faculty.haas.berkeley.edu/chatman/papers/Chatman_O'Reilly_Research_in_Organizational_Behavior_2016.pdf
[9]https://hbr.org/2022/01/11-trends-that-will-shape-work-in-2022-and-beyond