Strong Organizational Culture
A strong organizational culture plays a significant role in a company's success and ability to attract and retain top-level talent. Many factors influence culture, primarily a leader's actions, values, and leadership style. Healthy cultures are the result of effective leadership, and it is the role of leaders and managers to participate in purposefully building and sustaining culture. Culture often takes a back seat because the cost/benefit can be unclear, even though it is the single greatest lever to improve business outcomes.
Organizational culture is closely linked to the company's vision, values, and practices. Below are examples of two companies, Ford and Zappos, with leaders who successfully developed organizational culture into competitive advantages that led to notable business success.
"At the heart of our culture is the One Ford plan, which is essentially our vision for the organization and its mission. And at the heart of the One Ford plan is the phrase 'One Team'." - Alan Mulally, CEO of Ford
Ford
Alan Mulally, Ford's CEO, is well-known for reversing Ford's fortune through his One Ford plan. In an interview with McKinsey, he described the One Ford plan as the "heart of our culture" and vision for the organization. The cultural shifts put in place by Mulally have had a substantial impact on the structure of Ford's teams, collaboration, and innovation. Here is what Mulally did to build a culture of ​​collaboration and efficiency: Ford.  
Making everyone join the team: Mulally made his meetings a safe place for everyone and created alignment by binding each executive's performance to the company's success as a whole.
Creating one Ford: Mulally merged disparate regional divisions of Ford into a single, global enterprise.
Relying only on the facts of the company's performance: Mulally required Ford's executives to provide comprehensive progress updates by division, without explanations or justifications. Consequently, discrepancies in data were quickly exposed.
Coming up with a plan and sticking to it: Mulally stuck to the same plan and did not develop a new one until his initial goals were achieved.
The first two points represent Mulally's strategies to create a culture of collaboration at Ford, while the last two contributed to the culture of efficiency. Ford is what it is today because of Mulally's One Ford plan. Leaders who want to create an effective 'One Team' culture should consider this validated framework.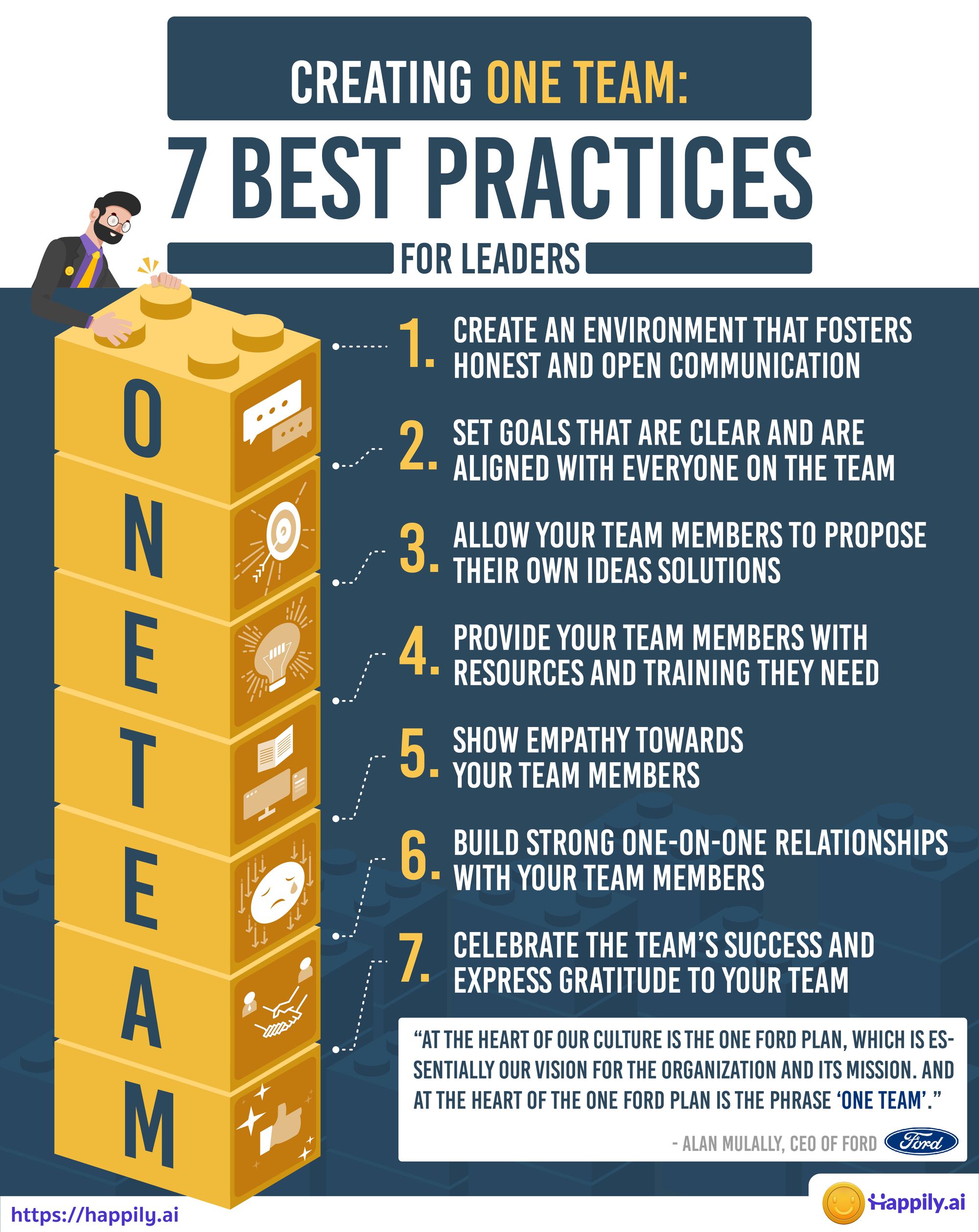 Best Practices for creating 'One Team'
Create an environment that fosters honest and open communication
Set clear goals that are aligned with everyone on the team
Allow team members to propose ideas and find solutions to problems
Provide team members with resources and training they need
Show empathy
Build strong one-on-one relationships with your team members
Celebrate the team's success and express gratitude
"We believe that it's really important to come up with core values that you can commit to. And by commit, we mean that you're willing to hire and fire based on them." - Tony Hsieh, CEO of Zappos
Zappos
Zappos is another company known for its strong culture. It represents a company where a leader prioritizes culture and pursues a purposeful building process. Tony Hsieh, the CEO of Zappos, devoted his role and resources around creating a culture that promotes employee happiness, customer satisfaction, and high performance. The core values at Zappos are always in focus. In Zappos's hiring process, new employees are offered a $1,000 bonus to quit after a few weeks if they do not find themselves a good fit with Zapppos's culture. This way, Zappos retained employees aligned with their values while keeping out those that did not fit in with their culture.
According to Zappos, the following actions are recommended for leaders to build and sustain a high-performing and healthy organizational culture.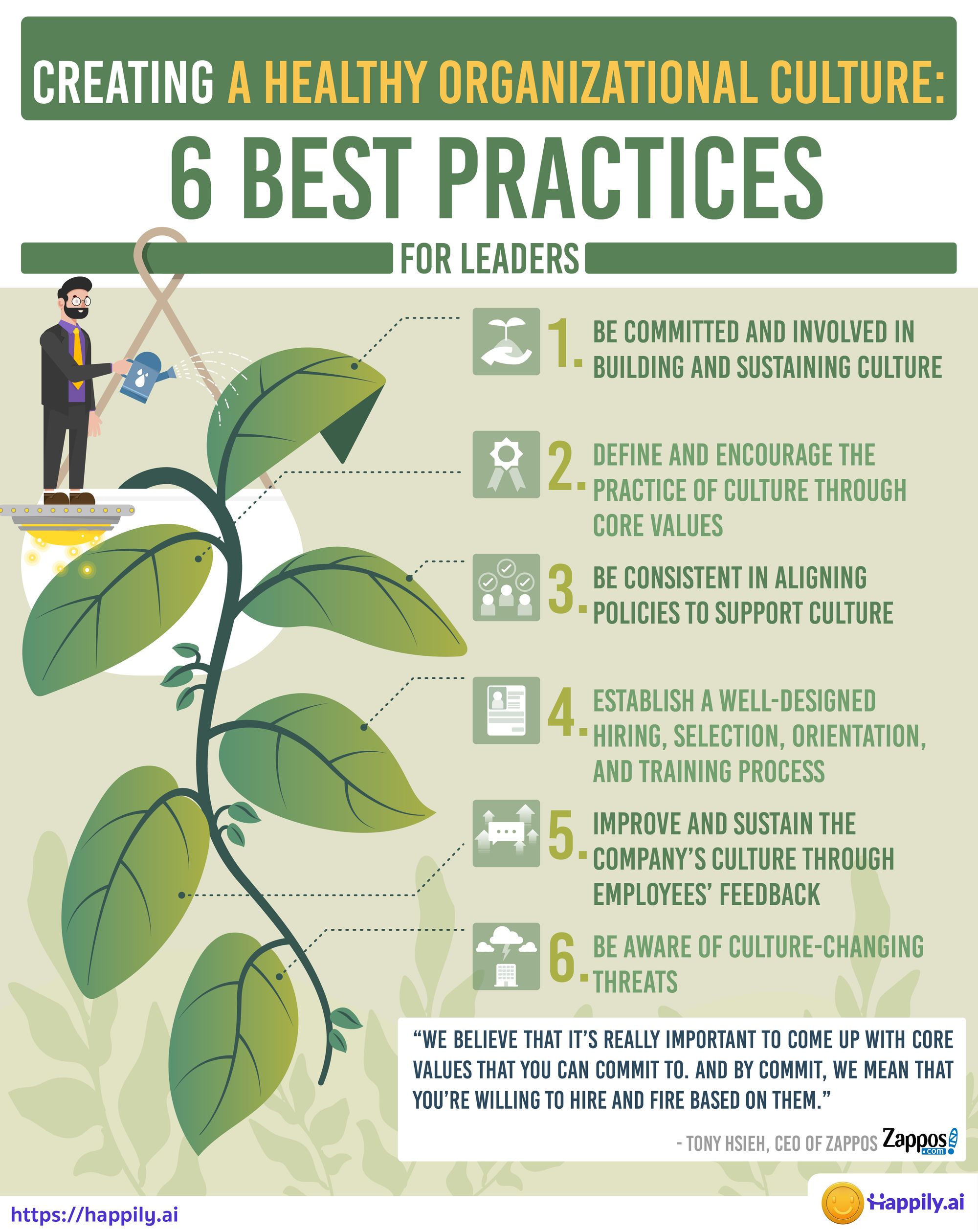 Best practices for creating a healthy organizational culture  
Be committed and involved in building and sustaining a strong culture.
Define and encourage culture through core values that are well-known throughout the organization and are used when making decisions.
Be consistent in aligning decisions, policies, and structures to support the organization's culture.
Establish a well-designed hiring, selection, orientation, and training process to ensure  alignment between employees' work and the company's culture.
Develop a process to monitor, improve, and sustain the company's culture by getting employee feedback.
Be aware of culture-changing threats and manage them by strengthening the existing culture or making appropriate changes when threats arise.
Conclusion
Successful leaders use culture as a fundamental management tool to enhance organizational performance. As the two examples above suggest, leaders must be actively aware of and engaged in building their organization's culture, putting in place practices that support and sustain their values.
At Happily.ai, we help organizations create a strong culture by providing leaders with tools to reinforce core values, develop role models, and measure culture strength. We encourage leaders to recognize employees who exemplify and perform actions that align with company values using 'Leadership Medals' and 'Recognition Values. Leaders can also actively communicate about core values through customized 'Sparks' and get employee feedback. Learn more about how we can help you create a healthy culture by visiting our website.

References
[1] Warrick, D. D. (2017). What leaders need to know about organizational culture. Business Horizons, 60(3), 395-404.
[2] Warrick, D. D., Milliman, J. F., & Ferguson, J. M. (2016). Building high performance cultures. Organizational Dynamics, 45(1), 64-70.
[3] https://notesmatic.com/analysis-organizational-culture-ford-motors/
[4] https://www.mckinsey.com/business-functions/strategy-and-corporate-finance/our-insights/leading-in-the-21st-century-an-interview-with-fords-alan-mulally
[5] https://www.forbes.com/sites/sarahcaldicott/2014/06/25/why-fords-alan-mulally-is-an-innovation-ceo-for-the-record-books/?sh=12b750107c04
[6] https://www.fastcompany.com/1680075/saving-an-iconic-brand-five-ways-alan-mulally-changed-ford-s-culture
[7] https://hbr.org/2018/01/the-leaders-guide-to-corporate-culture
[8] https://medium.com/@acupofculture/a-cup-of-culture-zappos
[9] https://www.fearlessculture.design/blog-posts/zappos-culture-design-canvas
[10] https://calipercorp.com/blog/10-effective-team-building-strategies/