A happy and healthy workforce is the key to any successful business. Employee well-being can help create a positive working environment, minimize overall stress levels, and increase employee engagement and satisfaction. At the same time, job stressors and negative mental health at work have serious consequences.
The Manager's Role in Promoting Well-being
Managers play a key role in balancing team well-being and achieving results. It can be uncomfortable and overwhelming for managers to promote employee well-being. Most struggle to find practical solutions that they can bring to their teams.
According to Gallup, a manager's role is to create an environment that empowers employees to manage their own well-being. Follow the four steps below to create an environment that fosters well-being.
Invite: Do not push employees to celebrate well-being but advocate the importance of a healthy lifestyle and help employees prioritize their well-being.
Provide:  Provide a welcoming, approving, and safe environment that actively encourages employees to participate in well-being practices.
Model: Managers should share personal well-being practices, providing examples of well-being in action.
Care: Managers should express genuine care about employee well-being by encouraging employees to set well-being goals and following up on progress.
The Pandemic's Consequence on Employees' Well-being

The pandemic has had a significant impact on the workplace and wreaked havoc on employee well-being. A well-being report found that 45% of employees were worse off in mental health and 42% in social connections at work during the lockdown. It is reported that the most common stressor is workload followed by management style and the work-life imbalance when working from home (WFH). 1 in 4 employees reported feeling stressed due to non-work-related factors (e.g., relationships and family). Managers are left to their own devices to help their teams deal with various stressors, and improve well-being, while still delivering on performance goals.
As a consequence, managers are the most susceptible to having low well-being.
Common Causes of Low Employee Well-being and Solutions for Managers
It should benefit managers to understand that low well-being may be caused by work and non-work-related factors. Managers should be accountable for resolving work-related stressors while providing the opportunity for their employees to manage non-work-related issues too. It is futile to garner alignment and push for performance from those with low well-being.
Here are common contributing factors and what you can do as a manager to help your teams overcome them.
The actions managers take play an integral role in the well-being of their teams. Employee well-being impacts productivity, engagement, and collaboration. Managing well-being starts by understanding the cause, and that's where pulse surveys and one-on-one conversations are essential. Stress and workload are often the factors attributed to low well-being, but other factors are prevalent and require different solutions.
Managers should advocate for and support well-being at work by setting a good example of a healthy lifestyle and expressing genuine care for others. Meanwhile, managers should not take sole responsibility for their team's well-being. Instead, they should focus on creating the right environment and providing support.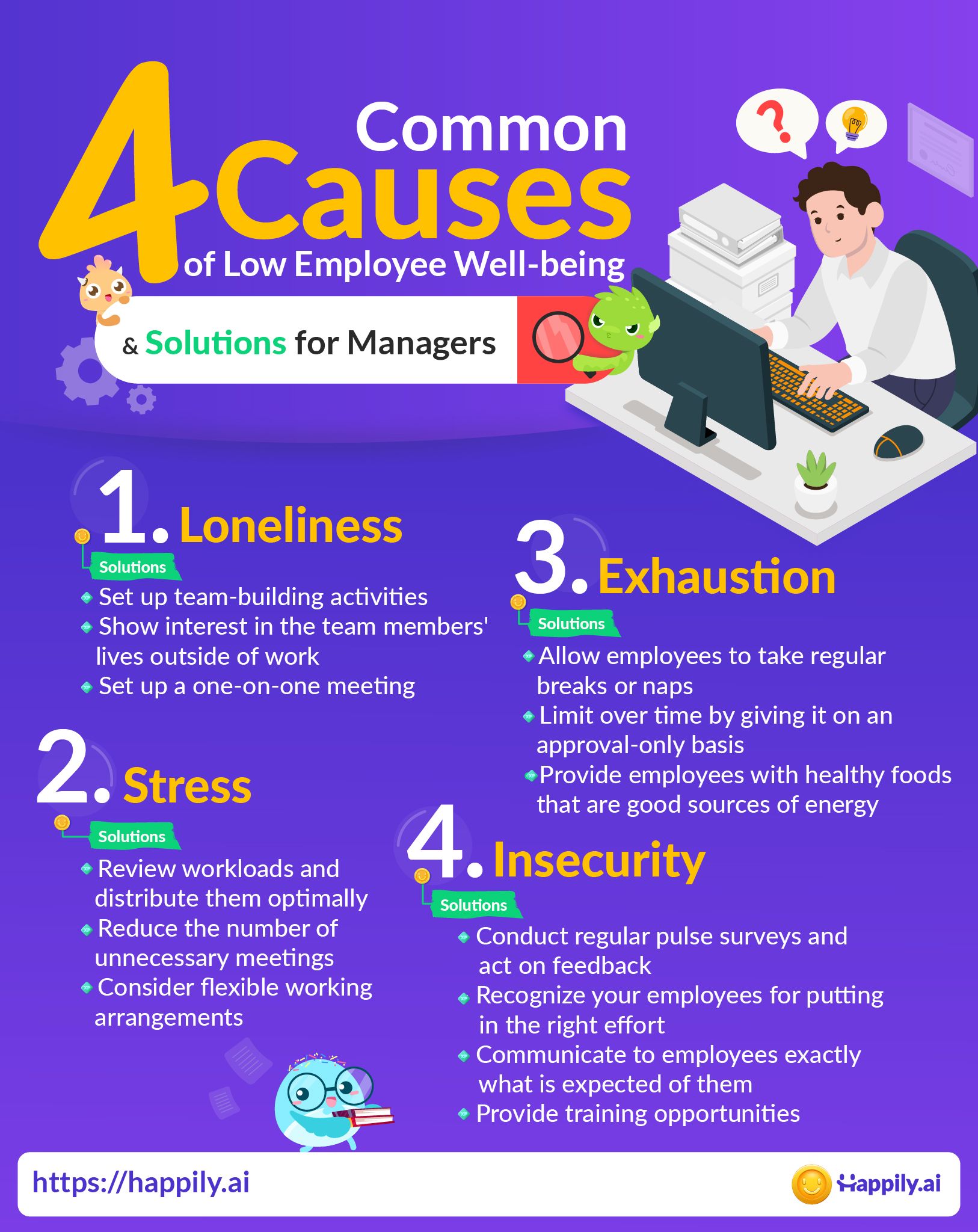 Happily.ai helps managers improve well-being with real-time insights and nudges that provide timely interventions. Managers can have a pulse on their teams and quickly identify those stressed or experiencing low well-being. Make well-being a top priority today and learn more about Happily.ai here.

References
https://www.gallup.com/workplace/236249/manager-role-employee.aspx
https://www.benenden.co.uk/be-healthy/work/how-to-improve-health-and-wellbeing-in-the-workplace/
https://www.mckinsey.com/industries/life-sciences/our-insights/using-digital-tech-to-support-employees-mental-health-and-resilience
https://www.entrepreneur.com/article/350881
https://www.customermonitor.com/the-managers-guide-to-workplace-well-being
https://www.healthline.com/health/emotional-exhaustion#symptoms
https://hbr.org/2022/05/managers-what-are-you-doing-about-change-exhaustion
https://www.forbes.com/sites/theyec/2014/02/25/seven-smart-ways-to-help-out-your-exhausted-employees/?sh=506f8e4b169f
https://blog.vantagecircle.com/workplace-loneliness/
https://www.mindtools.com/pages/article/loneliness-at-work.htm
https://www.indeed.com/career-advice/career-development/workplace-insecurities-and-how-to-fix
https://www.betterup.com/blog/job-insecurity
https://www.insightsforprofessionals.com/management/leadership/managing-insecure-employees
https://www.cipd.co.uk/Images/health-wellbeing-work-report-2021_tcm18-93541.pdf