Pulse surveys are fast becoming a popular tool to replace employee engagement surveys. However, a lot of confusion still exists about what the term "pulse survey" exactly means, making it difficult for organizations to implement pulse surveys effectively. The first step to transforming pulse surveys into leadership tools is to understand what a pulse survey is and how it can benefit your organization.
What is a Pulse Survey?
A pulse survey is a short quick survey sent on a regular basis used to help organizations gain quick information on the employees' views about workplace-related subjects.
There are 3 main common uses of a pulse survey:
1. Measure and increase the level of employee engagement.
2. Measure the effectiveness of action plans in order to take appropriate actions in a timely manner.
3. Create a continuous feedback loop between employees and the organization.
How is a Pulse Survey Different from an Annual Employee Engagement Survey?
Frequency: Pulse Surveys are sent on a regular basis, unlike annual surveys that are sent to employees once a year. Pulse Surveys can be sent daily, weekly, monthly, or quarterly. The frequency of sending pulse surveys will depend on how often you need to gather feedback and how quickly you can respond and take action.
Specificity: Pulse surveys ask more specific and timely questions than annual surveys. They tend to focus on asking questions about a specific topic or a set of closely related topics, whereas annual surveys usually cover a broader range of subjects.
Length: Pulse surveys are much shorter than annual surveys, containing only around 1 to 15 questions. The length of pulse surveys depends on how frequently you plan to send them out to employees. The more frequent the pulse, the shorter your survey can be.
What are the Benefits of Pulse Surveys?
Benefits for employees: A pulse survey helps support employee well-being by making employees feel more cared for. Employees can receive timely support in resolving any issues through feedback that is shared on a regular basis. Employees will feel more involved in driving culture when they have a regular opportunity to voice their opinions.
Benefits for leaders and managers: Pulse surveys help leaders and managers get real-time information on the sentiment and mental health of their employees, as well as the challenges they are currently facing. Leaders and managers can take appropriate actions based on employee feedback to help solve their problems in a timely manner. Pulse surveys also provide leaders with more honest and reliable feedback than annual surveys, given that employees can complete the questionnaire without waiting for that one time of the year.
Benefits for organizations: Pulse surveys help organizations track changes and take action quickly. By acting quickly to solve problems, organizations can reduce turnover rates and increase employee engagement.. Most importantly, pulse surveys can drive change. For example, they can help promote company culture and create unity among employees through employees' participation in discussions on various topics. When employees have the chance to interact and discuss non-work-related topics, they tend to have higher productivity as a team.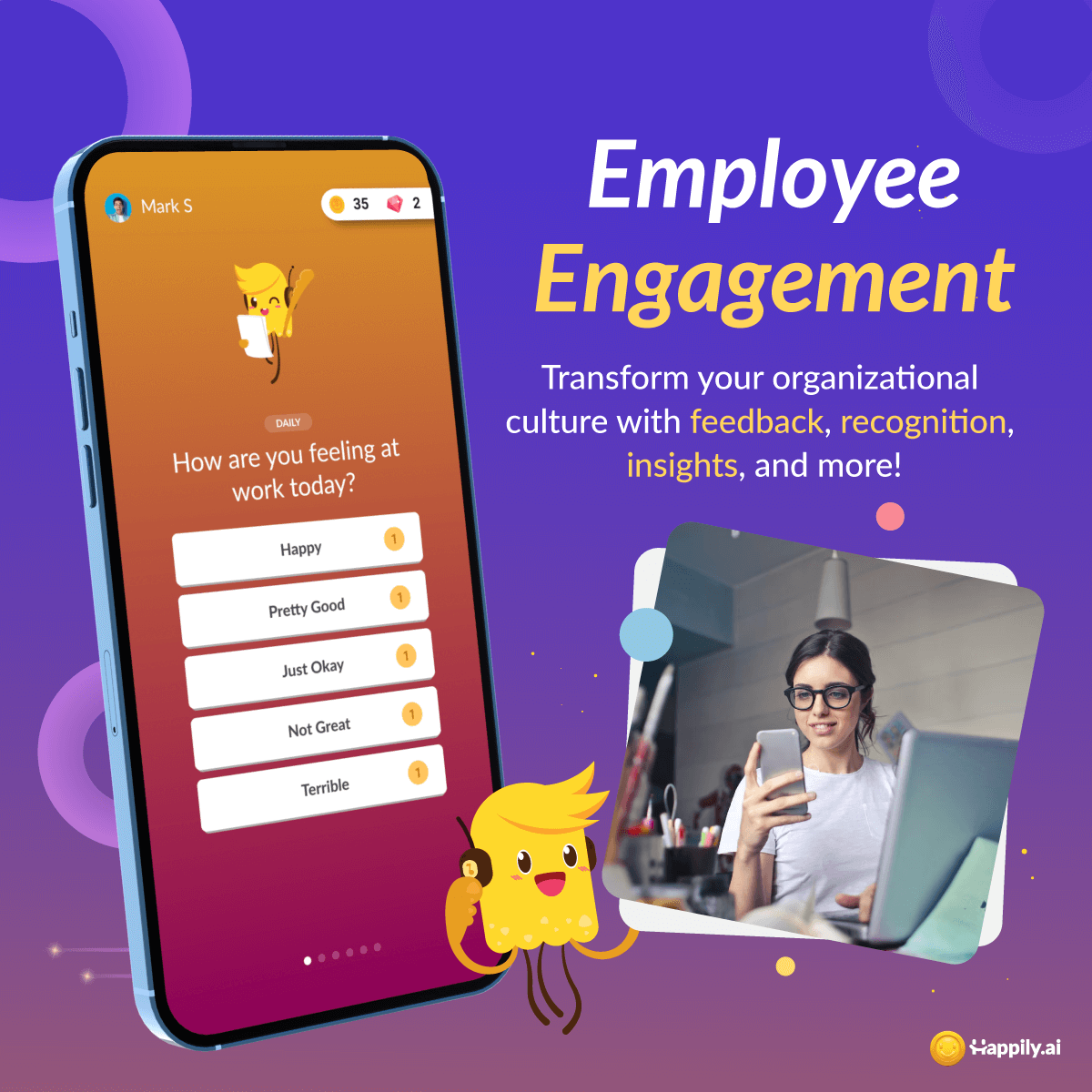 Encourage Employee Feedback with Happily.ai
See how it works
What Questions Should a Pulse Survey Include?
Pulse surveys include questions that help organizations understand the different aspects of employee engagement through a question set that is sent out to employees regularly on different topics, such as:
Happiness: On a scale of 0 to 10, how happy are you at work?
Wellness: Do you feel stressed out and overwhelmed by the amount of work you have?
Recognition: Do you feel that the work you are doing is important?
Feedback: Do you get enough feedback at work?
Relationship with Managers: Do you have meaningful interactions with your manager?
Company Alignment: Do you know how important your work is to your company's goals or mission?
Ambassadorship: How likely are you to recommend your organization as a good place to work?
Self-development: Does your work make you feel that you are learning and growing?
Your pulse survey does not need to include questions on every aspect of work. But it is important that you ask what is aligned with your goals and needs to be tracked in your organization. Focus on asking questions that are relevant and important to your company.
To help you get started, we developed examples of pulse survey for employee engagement, which is specifically designed to help you capture the most relevant and important information about your workforce. Don't miss this opportunity to improve your workplace and build a more engaged workforce.

Tips on creating the most effective Pulse Survey
As a leader or manager, you can get the most from pulse surveys if you know how to use this tool the right way. To turn pulse surveys into a leadership tool, organization leaders and managers should take the following steps:
Make sure what needs to be measured aligns with the company's values.
Learn and understand how you can make use of feedback.
Determine who gets feedback and how feedback will be analyzed and shared.
Communicate with employees about the goals, confidentiality, and purpose of their feedback.
Provide employees with appropriate training.
Make sure to take actions that can be measured, recorded, and communicated.
Continue to learn from collected data and feedback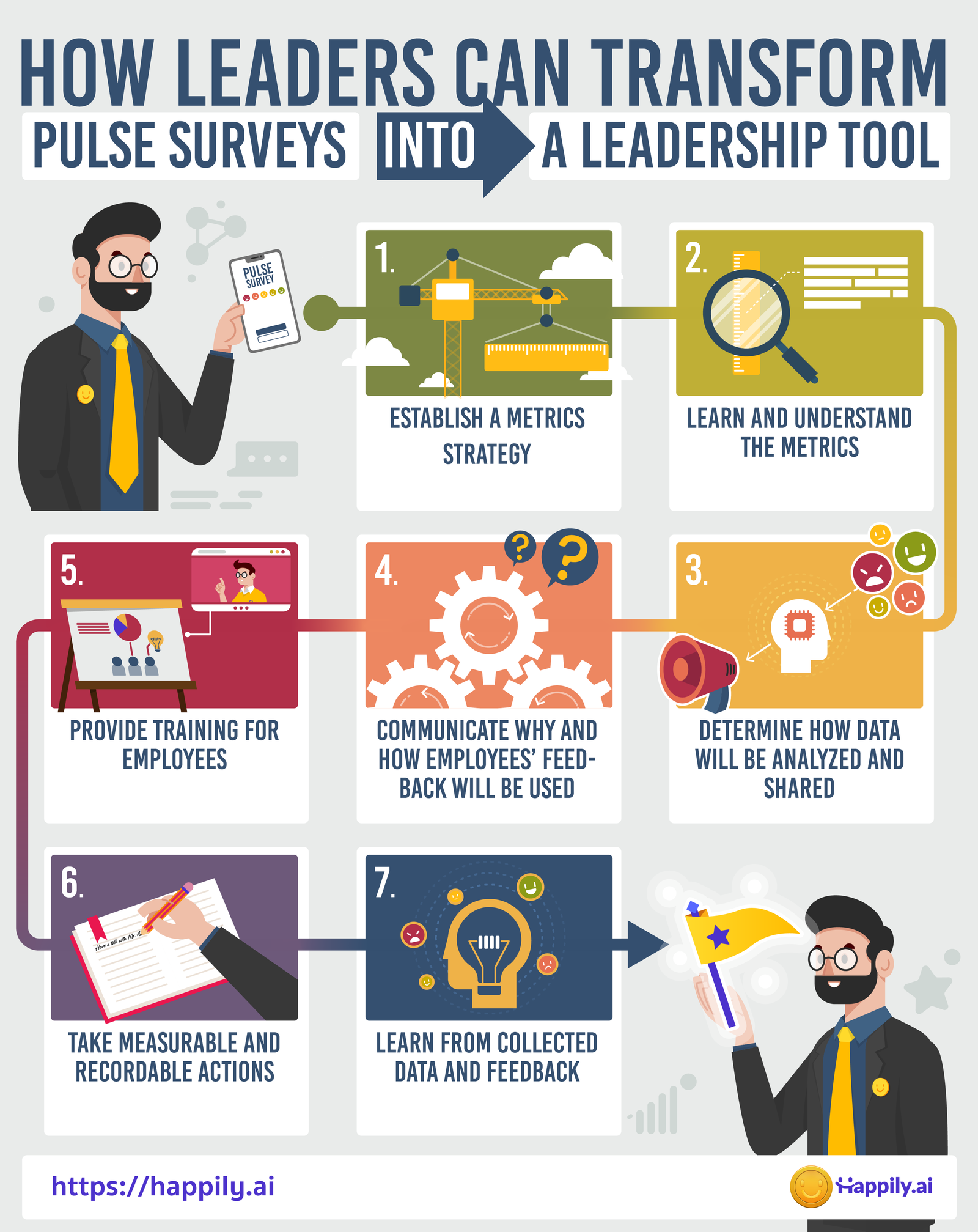 The Challenges of Pulse Surveys: Data Analysis
Pulse surveys are an easy-to-use tool that is highly effective in gathering timely feedback. The real challenge of implementing a pulse survey
is making sure the information collected will drive effective change. When analyzing data from the survey, you will need to generate practical insights. This will enable action from the right stakeholders.
The frequency at which pulse surveys are delivered affects the difficulty in data analysis and implementation. For instance, daily pulse surveys may provide the most accurate and useful feedback, but the volume of data can be challenging to keep up with and analyze in time.
At Happily.ai, we can help you get the most out of pulse surveys with our Daily Pulse Survey, along with actionable insights for organization leaders and managers. And with personalized generated insights, there is no need to worry about how to transform your employee to practical insights that drive real change. Visit our website here to learn more!

References
[1] https://www.edume.com/blog/pulse-survey
[2] https://www.cultureamp.com/blog/employee-pulse-survey
[3] https://www.qualtrics.com/au/experience-management/employee/what-is-employee-pulse-survey/?rid=ip&prevsite=en&newsite=au&geo=TH&geomatch=au
[4] https://staffbase.com/blog/10-employee-pulse-survey-questions-you-should-be-asking/
[5] https://blog.happily.ai/th/daily-pulse-survey-employee-engagement-tool-managers-business-hr-leaders/
[6] Allen, Julian & Jain, Sachin & Church, Allan. (2020). Using a Pulse Survey Approach to Drive Organizational Change.