"Happiness inspires productivity"
- Shawn Achor (Author of The Happiness Advantage)
A recent study confirms employees' well-being and happiness significantly predict an individual's performance. The happiest employees four times outperform those who are unhappy and have low well-being. While employee well-being predicted performance, the results suggest that performance greatly increases between poor and moderate well-being. Moreover, there is a linkage between performance and employee engagement. Thus, organizations benefit most significantly when employee well-being and engagement improve from a poor to moderate level.
Not only do happiness and well-being matter, they matter a lot. The happier individuals are at work, the more productive they become. It is a win-win situation for employees and companies.
According to World Happiness Report 2021, pre-pandemic employee happiness was largely influenced by a sense of belonging within an organization, flexibility at work, inclusivity, and a purpose in their work. Yet, the pandemic has shifted the workplace environment dramatically. Supportive managers have become the most significant predictor of employee happiness.
Now more than ever, leaders and managers have a critical effect on happiness and well-being in the workplace.
What can leaders do about happiness?
Experts suggest hiring for, promoting, and developing employees' happiness and urge leaders to:
1. Measure happiness in both employees and job candidates
They suggest using measurements of happiness and optimism as attributes or "tiebreakers" in the hiring process. Because while the risks of measuring happiness are low, benefits can be significant.
An effective strategy to help measure and identify happiness and well-being is pulse surveys. A pulse survey is a short survey regularly sent to gather timely feedback on employees' opinions on workplace-related topics. Insights from pulse surveys enable proactive people management to improve employees' happiness and well-being.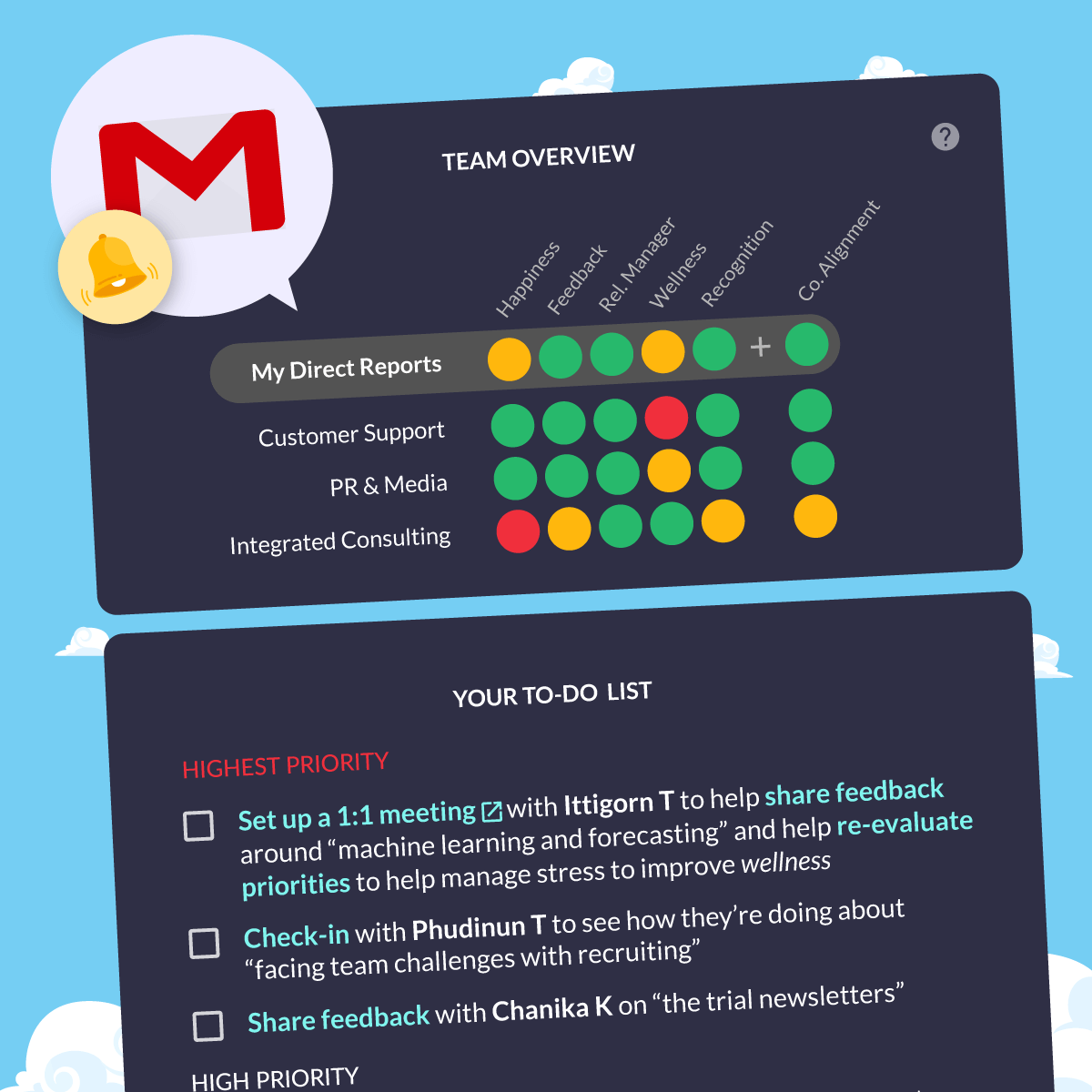 Insights for managers to measure and develop employees happiness
See how it works
2. Develop happiness in the workplace
"Training initiatives targeting employee well-being do not require a significant time investment, are cost-effective and carry a high ROI," states Lester, a researcher in the field of leadership and psychological health.
He suggests three examples of simple exercises: the Gratitude Visit, Three Good Things, and Using Signature Strengths in a New Way. These activities help employees learn to express gratitude and appreciate small successes each day. They cost nothing and the interventions can occur at any level of an organization and any size of a company.
Training and development programs aiming to enhance employees' skills and prepare them for a path forward for growth are also effective. Struggling with a dead-end job is frustrating. In fact, 73% of employees would not leave their company had there been more skill-building opportunities. Providing an opportunity to develop skills keeps your employees happy and boosts performance. It is also one of the company's most effective retention strategies.
3. Retain employees who are happy
"While organizations should want happy employees because they perform significantly better than those who are unhappy, organizations also need happy employees because happiness is, in fact, contagious," says Seligman, author of Flourish and an expert in positive psychology.
Besides career advancement, creating an empowered feedback culture is also one of the best retention strategies. Feedback culture makes employees feel open to sharing their thoughts and perspectives. It also suggests that their opinions are respected and valued. When their ideas can influence decisions and align with organizations, employees feel they belong to the team and strive to achieve a goal.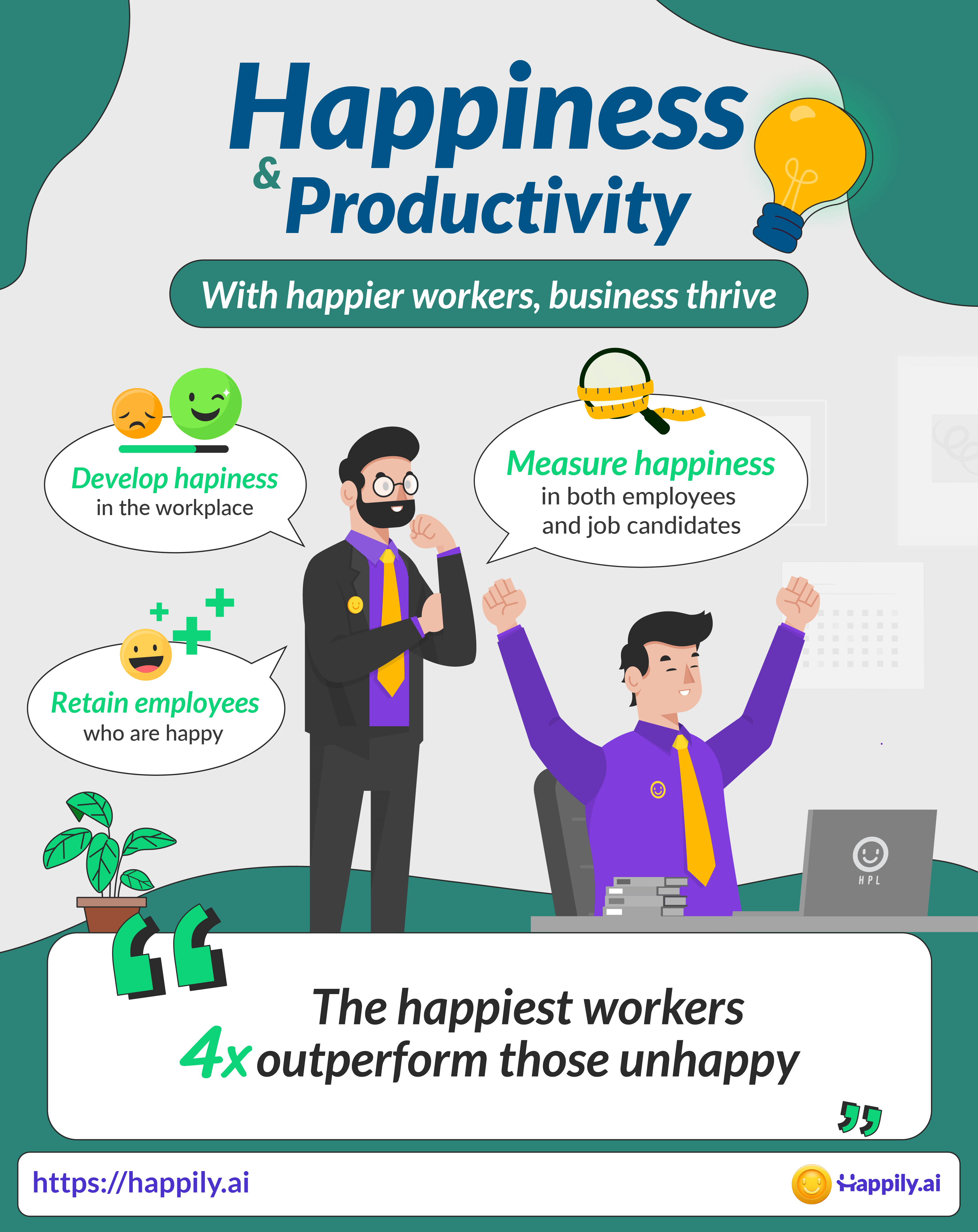 Conclusion
The bottom line is that a company with happy employees is a more productive company. High morale boosts your creativity and team collaboration. Employees will engage more with clients, which leads to more satisfied customers. Moreover, increasing low happiness and poor  well-being to moderate or high levels greatly benefits both employers and employees. Organizations should measure, develop and retain happy employees (conduct regular pulse surveys, foster feedback culture, and provide learning and development programs). When employees are happy at work, productivity boosts.
---
Happily.ai can help you improve employees' happiness and well-being
Happily.ai helps companies improve employees' happiness and well-being with real-time insights and nudges that provide timely interventions. Get a pulse on your teams and quickly identify those at risk. There are no shortcuts to creating a healthy and happy workplace, but we help you put the right pieces in place (within days, not months!). We invite you to check out Happily.ai to drive positive behavioral change in your workplace. Make happiness and well-being a top priority today!

References:
Helliwell, John F., Richard Layard, Jeffrey Sachs, and Jan-Emmanuel De Neve, eds. 2021. World Happiness Report 2021. New York: Sustainable Development Solutions Network.

Lester, P.B., Stewart, E.P., Vie, L.L. et al. Happy Soldiers are Highest Performers. J Happiness Stud 23, 1099–1120 (2022). https://doi.org/10.1007/s10902-021-00441-x

https://sloanreview.mit.edu/article/top-performers-have-a-superpower-happiness/